Exhibitions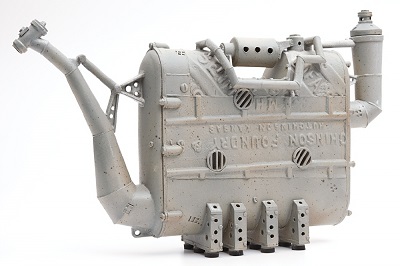 2014 Common Work of Art
August 26, 2014 - May 17, 2015
Each year the K-State Book Network selects a common reading, providing students with a mutual intellectural experience with professors, administrators, staff, and other students. This year's Common Work of Art by Patrick Taddy, a 1998 K-State MFA graduate, is presented in conjunction with K-State's 2014 Common Book, Steven Johnson's The Ghost Map.
The Ghost Map gives a detailed account of the detective work undertaken by a physician and a clergyman to identify a water pump as the source of a cholera outbreak in London in 1854. Johnson explains how this groundbreaking feat of epidemiology allowed cities to flourish at a time when advances in public services and infrastructure such as sewers and access to safe drinking water had yet to catch up with the rise in population growth.
Taddy's ceramic sculpture takes the form of a teapot, a traditional domestic object designed to serve a hot beverage. Its color, texture, and shape resemble those of a gas tank or any other industrial container used to transport liquids. To build the teapot's body, Taddy rolled slabs of clay onto plaster molds of manhole covers on the K-State campus. Through their work, Johnson and Taddy examine themes of water, safety, and industry, and the delicate and sometimes unknowingly dangerous interactions of nature, technology, and human behavior.
Related Programs
All programs take place at the Beach Museum of Art and are free and open to the public unless otherwise noted.
K-State Family Day Open House
September 27, 2014, 10 a.m.-5 p.m.
Come see Salvage Yard Teapot D4E by Patrick Taddy, the 2014 Common Work of Art, with a self-guided gallery activity.
Image Credit: Patrick Taddy (Canada, born 1950), Salvage Yard Teapot D4E, 1997, Stoneware.