Digital Publications
A Gathering in the Arts: Midwesterners Photographed by George M. Kren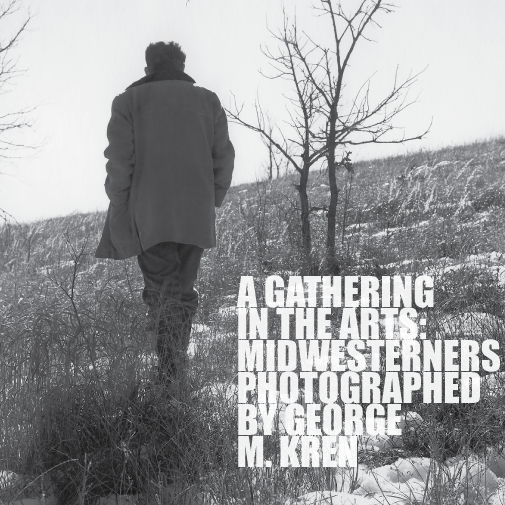 George M. Kren was a professor of History at Kansas State University and a passionate photographer. Artist and retired K-State professor Margo Kren is the author of this web book of photographs made by George Kren of the artists and arts advocates she interviewed during the final decades of the 20th century. The images from George and Margo's collaboration foretell the significance of what evolved over the next forty years into a vital and active regional life for the arts. Margo's thoughtful notes and George's unusually fresh portraits combine to evoke and preserve a special, formative period for the arts in Kansas City, in the state of Kansas, and in states beyond.
The book includes an afterword with comments by Jon Blumb, photographer, about George Kren as a photographer. An added note -- all or most of the photographs appeared at the Marianna Kistler Beach Museum of Art in the 2011 Exhibition Makers Framed: Photographic Portraits by George Kren.
Art for Every Home: An Illustrated

Index

of Associated American Artists Prints, Ceramics, and Textile Designs
by Gail Windisch, Sylvan Cole, and Karen Herbaugh, 2016
"The Curry Illustrations Project" Website Produced by K-State Students
The museum has formally launched "The Curry Illustrations Project," a digital humanities website related to Curry's 1940s illustration work. The project emerged from a spring 2018 art department credit course taught by Curator Liz Seaton with assistance from Digital Assets Assistant J.P. Harwick and Registrars Sarah Price and Theresa Ketterer. English Professor Mark Crosby, director of K-State's Digital Humanities Center, provided initial guidance for the course. Students in the course were Ben Ingle, Jenn Hudson, Hannah Lovell, Lacy Mann, Emily May, Nay Thomas, Sydney Tucker, and Andrew West. We plan to add additional research and resources to the website.