Exhibitions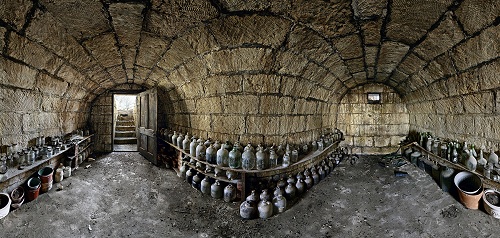 Tom Parish, T. Candon Root Cellar, 2012, inkjet print on paper
Take Shelter: An Installation by Tom Parish
2014 Friends of the Beach Museum of Art Gift Print Artist
February 5 - June 29, 2014
Parish's evocative and beautiful photographic art encourages a dialogue about Flint Hills native stone root cellars, and sheds a light on how they were built and functioned. Because very few of these arched-roof, subterranean structures are found outside this area of Kansas, they have become an icon of our region's shared history and community. In preparation for this exhibition, Parish interviewed local residents to preserve their memories of these important structures, and assembled photographs and other primary source material through the help of local historical societies. More of Parish's work can be viewed on his website.
This exhibition and related programming is funded in part by the Kansas Humanities Council, a nonprofit cultural organization promoting understanding of the history, traditions, and ideas that shape our lives and build community.
The 2014 Friends of the Beach Museum of Art gift print, Jacob Schreiber Root Cellar, 2012, by Tom Parish is featured prominently in this exhibition. The print will be available for purchase in two sizes: 10" x 20" and 20" x 40". For more information on purchasing a gift print, please contact Robin Lonborg, Business Manager, at 785-532-7718 or rlonborg@ksu.edu.
Related Programs
All programs are free and open to the public at the Beach Museum of Art unless otherwise noted.
Early Release Workshop - Mosaics
February 5, 2014, 2-3:30 p.m.
Create mosaics from a variety of materials using Tom Parish's stone dugout cellars for inspiration. Ages 5 and up. $5 per participant, $3 Friends of the Beach Museum of Art members.
Opening Reception
February 6, 2014, 5-7 p.m.
Take Shelter: Roundtable
March 13, 2014, 7 p.m., Flint Hills Discovery Center, 315 S 3rd St, Manhattan, KS
Join us for a discussion of Parish's multi-media exhibition conveying the history and significance of Flint Hills native stone root cellars.
Take Shelter: Tom Parish Artist Talk
June 12, 2014, 6 p.m. [Note: This program was originally scheduled for May 3, 2014 at 1 p.m.]
Parish discusses his photography and research on Flint Hills native stone subterranean shelters.