Voices of the West
February 4 – December 23, 2020

Americans' understanding of the history of the American West, including that of the Great Plains, has been significantly shaped by novels, movies, and television Westerns. These narratives often leave out the voices of the region's indigenous inhabitants, women, and other groups.
This selection of works from the museum's permanent collection offers a more critical perspective on the historic and modern American West. Images by American Indian artists, for example, address the displacement of Native peoples and the challenge of maintaining cultural traditions. Other artworks highlight the idealization of the Western landscape as well as its overdevelopment. Still other works reassess the iconic status of historical Western figures.
Two paintings by the Potawatomi artist Louis ShipShee included in the exhibition are recent gifts to the museum and have received conservation treatment at the Gerald R. Ford Conservation Center in Omaha.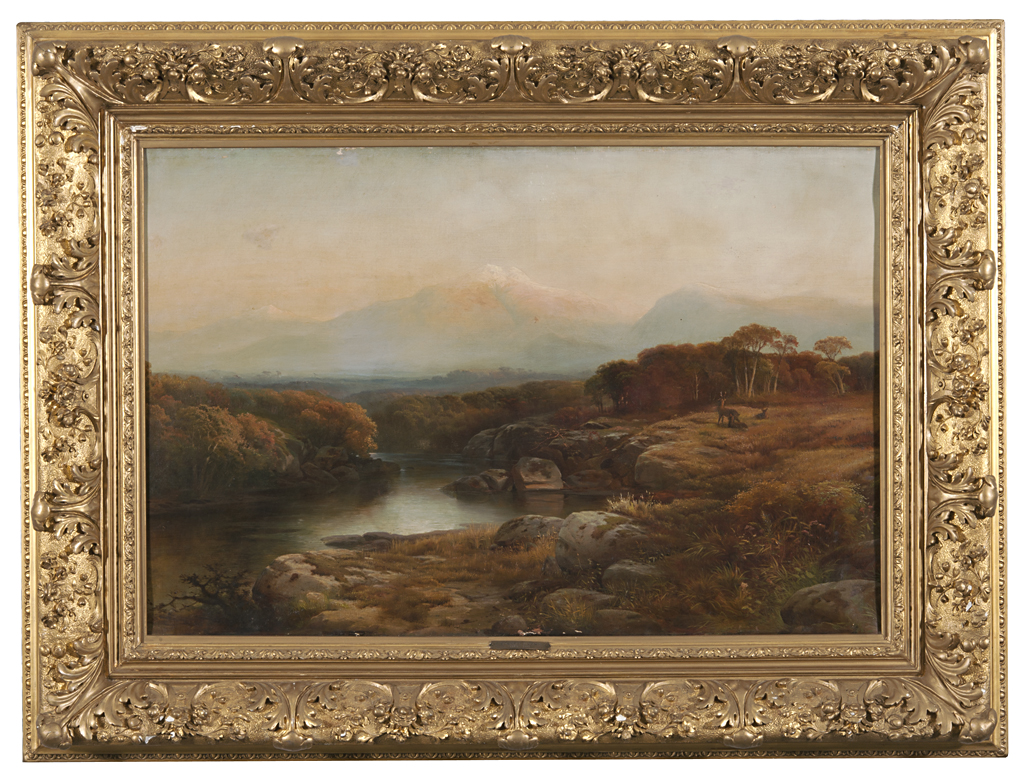 Edward Moran, Western Landscape, 1866, oil on canvas, 29 ½ x 50 in., gift of Charles V. Kincaid, 1963.6
Moran's transcendental Western Landscape appears in Voices of the West. The museum seeks donations for this artwork's conservation during the exhibition. The canvas on which the scene is painted suffers areas of loss and discoloration. A collection box is in the gallery.
Related events

The Only Good Indian
Film screening and post-film discussion
Thursday, February 20, 2020, 5:30 p.m. Parental discretion is advised.
This film, directed by University of Kansas Film Professor Kevin Willmott, presents a story about the harsh federal boarding schools many American Indian children were forced to attend. K-State Linguistic Anthropologist Amber Neely and others will comment and invite audience discussion after the screening.

Native American Perspectives
Panel discussion
Thursday, February 27, 2020, 5:30 p.m.
Join us for a closer look at historic and contemporary Native
American imagery in the Voices of the West exhibition. Hear from guest speakers University of Kansas Art Professor Norman Akers (Osage), K-State Anthropology Professor Lauren Ritterbush, and Oklahoma-based artist Minisa Crumbo Halsey, daughter of late artist Woody Crumbo (Potawatomi).