Programs and Projects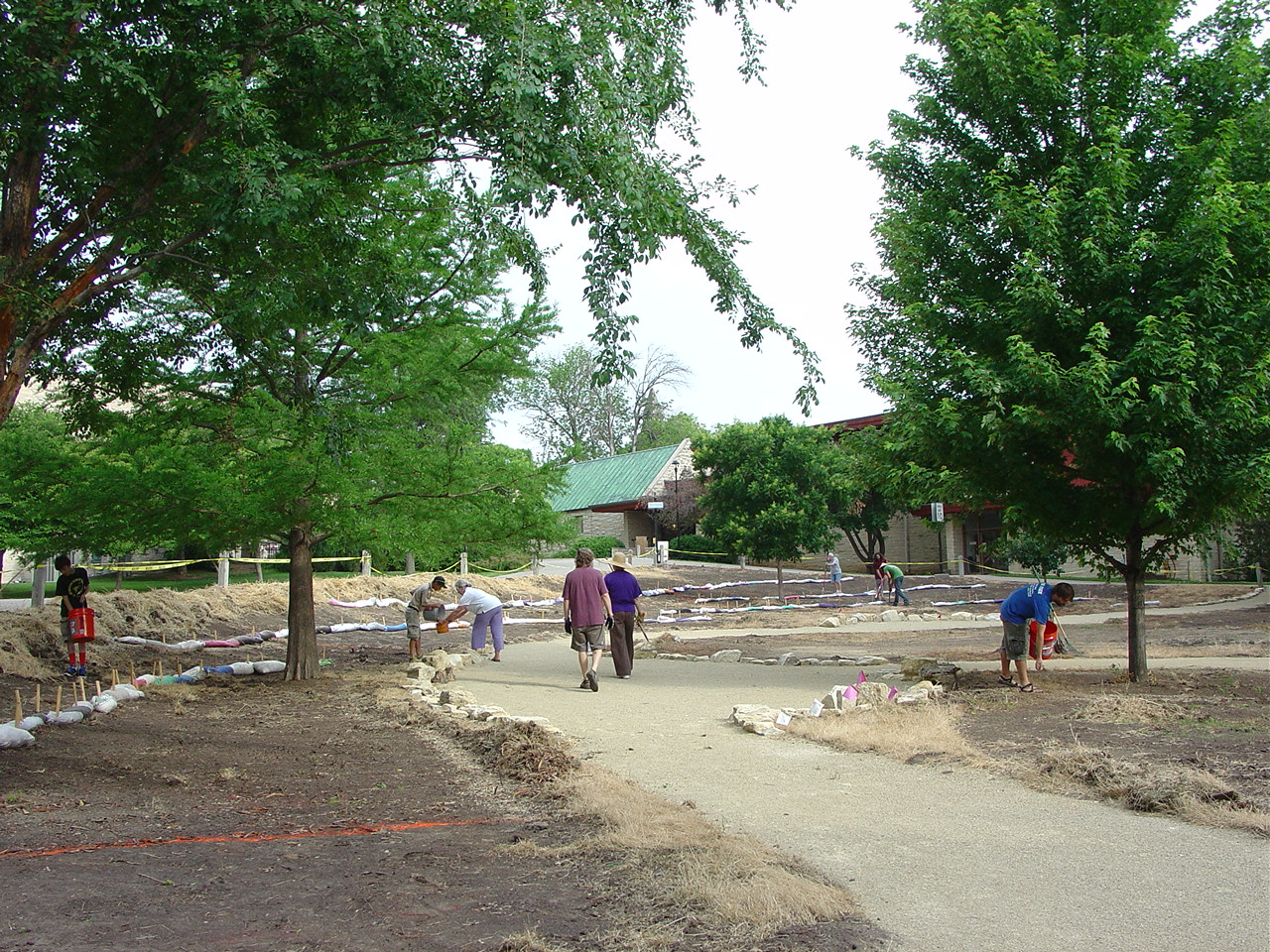 The initial seeding of the meadow in 2013.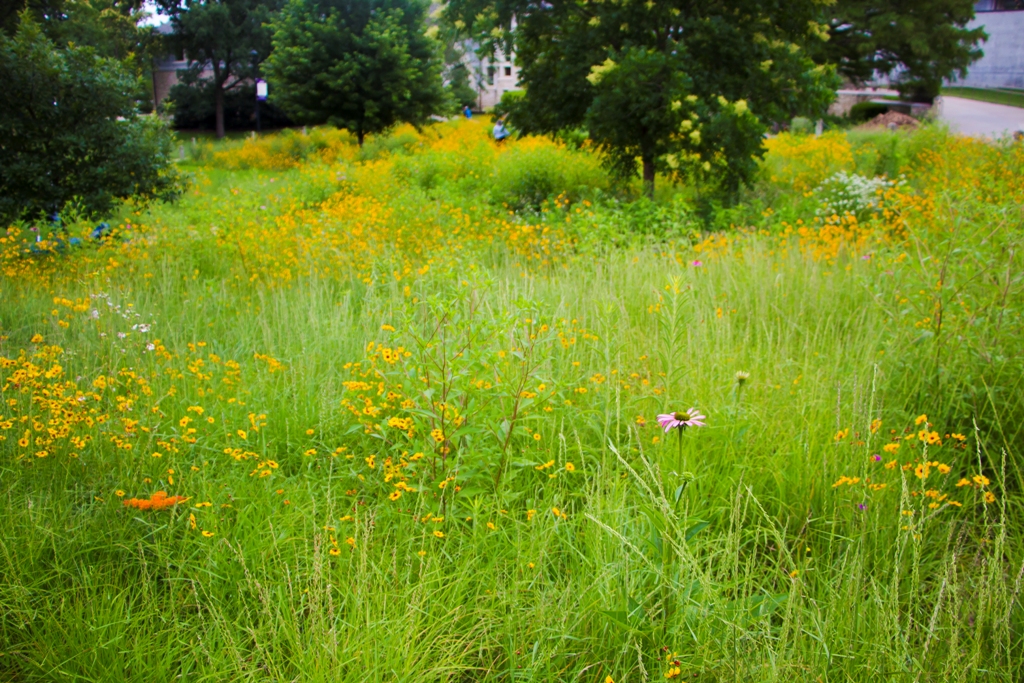 The meadow a year and a half later. Credit: Brianna Sprague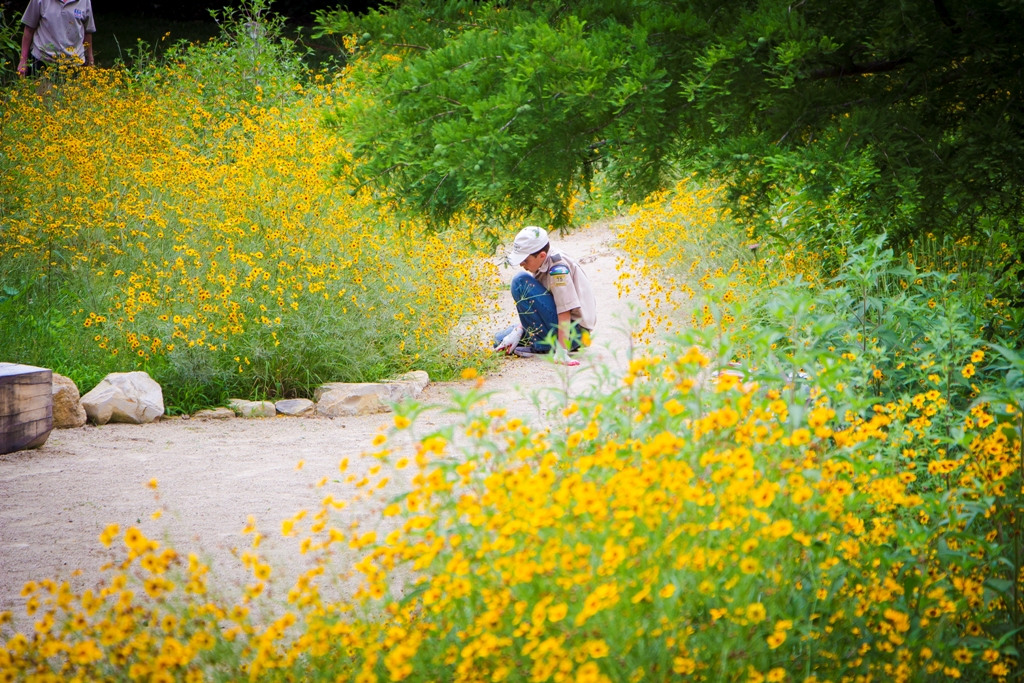 And work in the meadow continuing. Credit: Brianna Sprague
The Meadow
The Meadow at K-State is a one-half acre learning landscape of prairie plants native to the Flint Hills and located just North of the Beach Museum. The Meadow was transformed from mown turfgrass starting in 2013. After the 2014 growing season, The Meadow included over 40 species of plants introduced to the plot through sowing and transplanting. These include milkweeds and other species that provide food and habitat for Monarch butterflies and other pollinators. The Meadow is made possible through collaboration of staff,faculty, students, and members of the surrounding community.
The site was developed to create:
a demonstration of sustainable landscaping that requires less water and pesticide use than conventional lawns,

a natural laboratory for a variety of both graduate and undergraduate research projects,

a resource for teaching plant identification and native plants establishment,

an experiential component for Beach Museum tours, allowing visitors

to examine, touch, and smell some of the plants depicted in regionally significant art displayed in the Museum's galleries,

an extension of the work of Beach educators and faculty across campus to make meaningful connections among art, science, and enjoyment of the natural world.
The Meadow has been made possible in part by the generosity of the Hummel family, the John and John T. Henley Excellence Fund, and K-State's Green Action Fund. The Meadow is a living memorial to Professor William C. Hummel and Sara T. Hummel. To learn more about the Meadow, go to https://blogs.k-state.edu/meadow/ or contact beachart@ksu.edu.
Touch Screen Table Project
Touch the Prairie is an interactive digital experience that connects research into the natural and cultural history of the prairie with art works in the collection of the Beach Museum of Art. Still in prototype phase, Touch the Prairie is being created for an interactive touch screen table by artist/programmers Rose Marshack and Rick Valentin, working closely with Beach museum staff member Luke Dempsey. Visitor testing in the gallery is in process.

The artists featured in Touch the Prairie include John Steuart Curry, Gordon Parks, Patricia Duncan, Shirley Smith, and many more. Over time, the program will grow, incorporating new research data and art work, and new thematic modules.
A series of panels commissioned by the Smithsonian by Patricia Duncan have been digitally preserved as part of the Beach Museum's work Prairie Studies Initiative: the materials are available here.
Open A.I.R.
Open A.I.R. (Artist in Residence) is a creative residency sponsored by the Prairie Studies Initiative and the Beach Museum of Art. Open A.I.R. explores overlapping interests and methods of art and science. It can take various forms, but most often includes a gallery installation, drop-in activities hosted by the artist/s in residence, and public programs.
Past Events
Cross-Disciplinary Exploration and Engagement:
An Art-Science Workshop
July 15, 2016, Meeting Hall, Konza Prairie Biological Station, Manhattan, KS
Apply to be one of the 20 artists and 20 scientists joining us for a day of intense mental stimulation, discovery, and dialogue to expand your practice and investigative imagination. Special Presenter: Matthew Coolidge, Founder and Director of the Center for Land Use Interpretation (CLUI) in Los Angeles. This is no cost to attend this workshop. More information and registration link (pdf).
K-State Department of English Visiting Writer and Speaker
Julian Hoffman
Thursday, April 14, 2016, 7:00 p.m., Union Little Theatre
Julian Hoffman lives beside the Prespa Lakes in northern Greece. His book, The Small Heart of Things: Being at Home in a Beckoning World, was chosen by Terry Tempest Williams as the winner of the 2012 AWP Award Series for Nonfiction. In 2014, it won a National Outdoor Book Award for Natural History Literature. This program is co-sponsored by the Prairie Studies Initiative.
When the Well Runs Dry
Film screening, commentary by the filmmaker and K- State faculty members, and audience discussion
Thursday, October 22, 2015, 5:30 pm
UMB Theater, Gallery Level
Marianna Kistler Beach Museum of Art
When the Well Runs Dry is a 31 minute film directed by Lawrence filmmaker Steve Lerner, and award winning Los Angeles documentary filmmaker Reuben Aaronson. Other members of the production team are Jim Jewell, and Greg Allen.
This short documentary tenderly portrays the vital connection that rural Kansans have with water, our most precious resource. Ranchers, farmers, and residents of small Kansas towns tell us their heartfelt, personal stories about water, including the ongoing threats they face to the availability of the water on which they depend.
Director Steve Lerner, Jesse Nippert (Biology), Matthew Sanderson (Sociology), and Steve Wolgast (Journalism) will offer commentary and respond to audience questions and comments. A live stream connection with Seward County Community College/Area Technical School in Liberal, KS will allow audiences at the two sites to interact.
This program is presented by: Prairie Studies Initiative, Global Campus, Marianna Kistler Beach Museum of Art, and Chapman Center for Rural Studies