Prairie Studies Initiative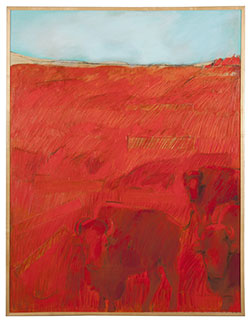 "Red Prairie and Bison," an acrylic on canvas by Patricia DuBose Duncan in 1990, was a gift to Kansas State University's Marianna Kistler Beach Museum of Art by former Sen. Nancy Landon Kassebaum Baker. Duncan created a national traveling exhibition on tallgrass prairies that helped draw attention to the need to preserve them.
The Prairie Studies Initiative is a collaborative community of K-State faculty, staff, students and the broader public to explore the cultural and ecological dimensions of the prairie, challenges to sustaining grassland ecosystems, and envisioning new futures for these unique and important landscapes. The initiative hopes to cultivate understanding of the natural ecosystems, history, culture, and livelihoods of the prairie, and to employ the arts to make these explorations meaningful to a wide public. We invite you to explore our resources here, attend our events and to contact us via the Beach Museum of Art.
Explore our projects and programs
How to get involved?
If you are interested in learning more about initiative events and opportunities, join our public mailing list by notifying ksuprairiestudies@ksu.edu. Check our upcoming events at our project and programs or the Beach Museum calendar! Please join us when your schedule allows.